3 ways to cope with your first breakup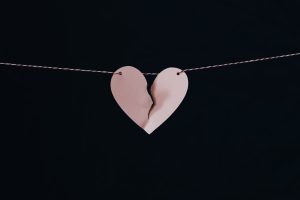 Why is it hard to deal with?
More often than not, break-ups are tough to deal with. It was the end of a relationship that was important. It was something that made you feel many emotions. When you've broken up with someone, you can feel a mix of emotions such as sadness, loss, pain, fear, or a totally different feeling. 
Sambandh todana kabhee bhi aasaan nahin hota, bhale hee aap rishte ke ant kee shuruaat kar rahe hon.
Sabase pahale, kaee prakaar kee bhaavanaon ka saamana karana padata hai, jinamen se kuchh adhik samay tak chal sakatee hain. Breakup se ubarane ke lie aap alpakaalik aur deerghakaalik kadam bhee utha sakate hain taaki aap bhavishy mein svasth, bharosemand rishton kee or badh saken – jisamen svayan ke saath ek svasth sambandh bhee shaamil hai.
Let's talk about what to expect with a breakup and how you can recover in a positive way!
How can you learn to deal with Break up? 
Understand and express your emotions
A breakup involves grieving, which can have many ups and downs- you could experience sadness one moment and anger the next. Kuchh logon ko raahat ka anubhav bhee ho sakata hai!
Understand and accept whatever you're feeling. You may end up feeling: 
Acceptance

Anger

Betrayed

Denial

Embarrassment

Fear

Pain

Relief

Rejection

Shock

Sadness

Or something entirely different. 
Jab aap pahalee baar brekap se guzar rahe hon, to ye bhaavanaen bahut teevr mahasoos kar sakatee hain.
Try different activities that help you cope
Apanee bhaavanaon ke maadhyam se kaam karana brekap se nipatane ka pahala hissa hai. Shuruaat mein yah jitana kathin lag sakata hai, brekap ke turant baad apanee bhaavanaatmak, maanasik aur shaareerik suraksha sunishchit karana mahatvapoorn hai.
Go out and spend time with friends and family
The grief of a breakup may be strong enough to make you end up being alone. In times like this, having support from friends and family can be very helpful. Koshish karen ki aap aise logon se na milen jo aapakee paravaah karate hain. Aapake sabase kareebee aapako baahar nikalane mein madad kar sakate hain lekin aapako yah bhee dikha sakate hain ki aap pyaar karate hain aur samarthit hain. Furthermore, keeping in touch with your social life can decrease depression.
Doing this can also improve the quality of your romantic relationship skills in the future. 
Do activities that you enjoy
Try to do things that you find relaxing, such as watching a movie, listening to music, or playing sports. Avoid using alcohol and drugs to deal with the pain, because while they may initially help you feel better, the after-effects will make you feel much worse.
Aap apane aap ko apane haathon mein bahut adhik khaalee samay ke saath pa sakate hain, khaasakar saptaahaant par. Aage kee yojana banaen aur aisee cheejen karen jo aapako aamataur par pasand hon.
Reach out to a therapist for professional support 
Talking to a therapist can help you work through your emotions while also finding ways to cope. Try looking for a therapist specializing in relationship concerns. A breakup can affect how you handle future relationships. 
Vishvaas phirse banaane mein samay lag sakata hai, aur ek chikitsak issme apki maddad kar sakta hai. 
Lastly, make sure you give yourself enough time to grieve and fully process your emotions before moving on. Yah samay nishchit roop se ek vyakti se doosare vyakti mein bhinn ho sakata hai.
If you are going through a breakup, but don't know how to deal with it, reach out to our professionals at BetterSpace. We're here for you!